Key West Mayor Craig Cates on Wednesday commended a man who, for over two decades has shaped and protected this island through voluntary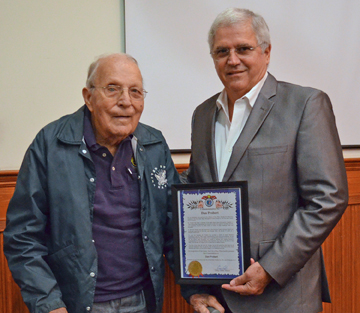 service. Dan Probert is retiring from civic service after serving 22 years on the Key West Bight Management District Board and 23 years on the Port and Transit Advisory Board.
The commendation was greeted with a standing ovation by the Commission, City staffers and a full house.
"It's been a pleasure serving the city," said Probert. "I want to compliment the staff of the City for performance that has been outstanding, and the board that has done a great job providing a very nice facility for the city of Key West."
"For over two decades," reads the commendation, "Mr. Probert has provided a wealth of expert maritime knowledge to the city… He has always been thoughtful and careful in advising and making decisions, understanding the long term effects these decisions may have on the future of Key West. He has been an integral part of preserving our island's history."