Mayor Craig Cates proclaimed February as Water Quality Awareness Month and recognized Ocean Key Marina as the second privately owned marine in the city to become Clean Marina Certified by the state of Florida.
Two City-owned marinas have maintained that recognition for several years, and last year Conch Harbor Marina won the designation. Part of the City's comprehensive plan is to all marinas certified in 2015 and all boatyards by 2020. Because Key West is dependent on the health of our ecosystem, it's vital that we maintain clean water. Clean Marina Certification shows that vessels are pumping out and keeping the nearshore waters clean.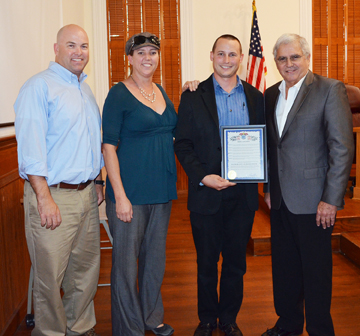 In the attached photograph: Florida Keys National Marine Sanctuary Superintendent Sean Morton, City sustainability coordinator Alison Higgins, Ryan Gernaati of Ocean Key Resort and Spa, and Mayor Craig Cates.