City officials and live-aboard residents were on hand Friday for the official ribbon-cutting on the newly revamped Tarpon Pier at Garrison Bight.
Houseboats have been put back in place on this, the largest of the live-aboard piers in the marina. The $1.4 million project, finished on time and within budget, provides up-to-date electric, water, phone and sewer connections and a floating design that assures a longer life for the pier.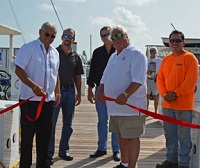 The old pier was rapidly deteriorating. In fact, a 20-foot section of the old concrete decking fell into the water in 2010 and disabled all utility services. The bid was awarded to Ebsary Construction in November, and boats were temporarily moved to adjacent piers while the new pier and its 25 finger piers were installed. Most vessels are now in their new slips, and residents say they're more than pleased with the new digs.
In the photo, Mayor Craig Cates, Engineer Doug Bradshaw, Assistant City Manager David Fernandez, District II City Commissioner Mark Rossi, and Ebsary Construction Manager Danny Gonzalez.